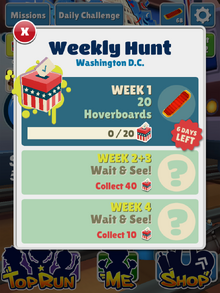 Ballot Boxes are the weekly hunt tokens which were collectable during the Washington D.C. edition. They have the appearance of a ballot box with the colours of the American flag.
Prizes for collecting ballot boxes:
Edit
Week 1 - Collect 20 ballot boxes for 20 Hoverboards.
Week 2+3 - Collect 40 ballot boxes for 6 Score Boosters.
Week 4 - Collect 10 ballot boxes for 3.
Their counterpart in the 2017 version are Planes.