This article features content related to an already expired object.
Clams are the Weekly Hunt tokens in the Subway Surfers World Tour: Bangkok edition. They have the appearance of pink clams.
Weekly Hunt Prizes for Collecting Clams
Edit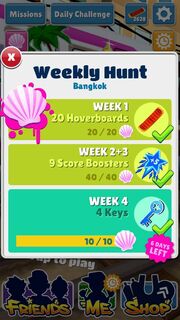 Week 1: Collect 20 clams and you get 20 hoverboards.
Week 2+3: Collect 40 clams and you get 9 Score Boosters.
Week 4: Collect 10 clams and you get 4 .
Their counterpart in the 2017 version were buddha heads. They were later reverted back to clams.