This article features content related to an already expired object.
Dragons or Little Dragons are tokens needed to be collected for the Weekly Hunt in the Beijing edition. As its name states, it has the appearance of a little dragon.
Prizes for Collecting Dragons 2013
Edit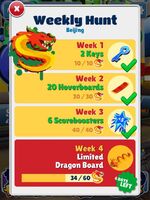 On the Weekly Hunt list, it shows Scoreboosters instead of Score Boosters. This is a typo mistake.
Prizes for Collecting Dragons 2014
Edit