This article features content related to an already expired object.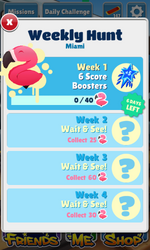 Not to be mistaken with the
Flamingo
hoverboard.
Flamingos
are tokens needed to be collected for the
Weekly Hunt
in the Miami edition. They represent pink flamingos. They also returned for the 2014 and 2017 Miami editions, but with different rewards and requirements.
Weekly Hunt Prizes for Collecting Flamingos during the 2013 edition:Edit
Coming soon...
Weekly Hunt Prizes for Collecting Flamingos during the 2014 edition:Edit