This article features content related to an already expired object.
Izzy




Characteristics
Title
Izzy
Cost
95,000
Tokens
None
Outfits
Outfit 1
Aloha Outfit
Cost
15
Outfit 2
Laki Outfit
Cost
30
Izzy is a limited character that is exclusive to Subway Surfers World Tour: Hawaii. He is also the twenty-fourth limited character in Subway Surfers, and the twenty-second in the World Tour series. He can be purchased with

95,000.
Appearance
Edit
Izzy is a Hawaiian boy who wears a hula skirt, leaf wristbands and a grass crown on his head. He has tribal marking on his body.
In his Aloha Outfit, he wears a light blue open shirt and red shorts with yellow designs on it. The markings on his body and face is removed, as well as his grass crown. Instead, a black patch of hair could be seen in the middle of his head.
He is the second overweight character. The first being King.  
On 11 March 2015, he made a return, though unlike his original appearance he now costs $0.99.  
He is the first character to run barefooted, the second being Jay (Blue Outfit only), the third being Amira and the fourth being Zuri.  
He is the first limited character of 2016.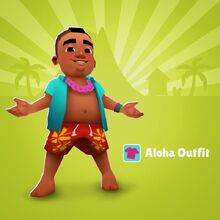 Characters

Default
• • • • •
• • •
World Tour
2012
•
2013
• • • • •
2014
• • • • • • • •
2015
• • • • • •
2016
• • • • • • • •
2017
• • • • • •
Special
Non-playable
•
Ad blocker interference detected!
Wikia is a free-to-use site that makes money from advertising. We have a modified experience for viewers using ad blockers

Wikia is not accessible if you've made further modifications. Remove the custom ad blocker rule(s) and the page will load as expected.