This article features content related to an already expired object.
Jamie
Characteristics
Title
Jamie
Cost
95,000
Tokens
None
Outfits
Outfit 1
None
Cost
None
Outfit 2
None
Cost
None
Jamie was a limited character that is exclusive to Subway Surfers World Tour: London. He is also the thirteenth limited character in Subway Surfers, and the eleventh limited character in the World Tour series. He can be purchased with

95,000.
Appearance
Edit
He wears a red long-sleeved sweater with a green vest. He also wears a green hat which people normally wear on snowy days and a pair of sunglasses, but sometimes you can see if he has blue eyes. He seems to be wearing tight black trousers and white shoes with black laces. There is a camera on his vest. Unlike many characters, he appears to be a young adult rather than a teen.
Jamie is the first (and currently only) character not available in his edition's re-release.

Therefore, Jamie is the only character from a revisited city who is without an outfit.

According to the London update description, he seems to be a 'curious photographer'. This makes sense because he has a camera.
On 15 January 2014, Jamie made a reappearance at the Mumbai edition for 24 hours, costing $0.99.

This is the first time a World Tour character has ever reappeared back into the game.
He also reappeared in the Las Vegas edition.

Jamie is the last limited character of 2013.
Jamie, Prince K and Tony are the only characters wearing spectacles.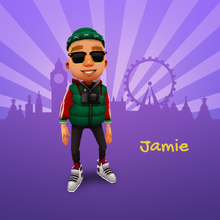 Characters

Default
Jake • Frank • Frizzy • King • Lucy • Ninja • Tagbot • Tasha • Zoe • Brody • Prince K
• Tricky • Fresh • Spike • Yutani •
World Tour
2012
Zombie Jake • Elf Tricky
2013
• • • • • • Coco • Sun • Alex • Eddy • Jamie
2014
Jay • Mina • Rosa • Olivia • Edison • Wayne • Jasmine • • Buddy
2015
Rex • • • Marco • Nikos • Zuri • Mike
2016
• 50px • 50px • • • 50px • 50px • 50px • 50px
2017
• • • • • •
Special
Dino
Non-playable
The Inspector • The Inspector's Dog
Ad blocker interference detected!
Wikia is a free-to-use site that makes money from advertising. We have a modified experience for viewers using ad blockers

Wikia is not accessible if you've made further modifications. Remove the custom ad blocker rule(s) and the page will load as expected.