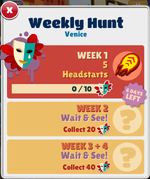 This article features content related to an already expired object.
Opera Masks or colorful carnival masks are tokens that are needed to be collected for the Weekly Hunt in the Venice edition. It has the appearance of a mask with one half being blue and the other white. Noticeably, on the blue side a single tear can be seen.
Prizes for collecting colorful carnival masks
Edit
Ad blocker interference detected!
Wikia is a free-to-use site that makes money from advertising. We have a modified experience for viewers using ad blockers

Wikia is not accessible if you've made further modifications. Remove the custom ad blocker rule(s) and the page will load as expected.