This article features content related to an already expired object.
Outback


Jake surfing on the Outback hoverboard.

Characteristics
Title
Outback
Cost
50,000
Special Ability
No
Board Upgrades
Upgrade 1
None
Cost
None
Upgrade 2
None
Cost
None
Outback was the fifth limited hoverboard in Subway Surfers, exclusive to Subway Surfers World Tour: Sydney. Like any other hoverboard, it protects you from crashing for 30 seconds. When crashed, the hoverboard will explode and need to recharge for a few seconds before using again. It has a picture of red and brown swirls with white dots on it which represents aboriginal art.
This hoverboard did not make a reappearance in the 2015 version of Sydney and 2016 version of Sydney.
The Outback is the vast, remote, arid area of Australia.
The Outback's design is likely to resemble Australian Aboriginal art.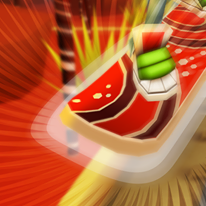 Ad blocker interference detected!
Wikia is a free-to-use site that makes money from advertising. We have a modified experience for viewers using ad blockers

Wikia is not accessible if you've made further modifications. Remove the custom ad blocker rule(s) and the page will load as expected.