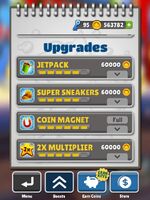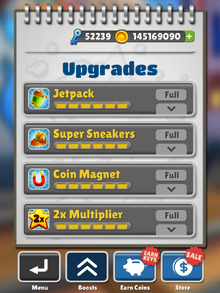 Power-Ups are items in the game that either increases a certain ability or gives the character a special ability. There are 4 main power-ups in the game, which are the 2X Multiplier, Coin Magnet, Jetpack and the Super Sneakers. Certain missions that require the player to use 3 or more power-ups also count the hoverboard as one of them. Each power-up has a certain function, and can be used during gameplay. Some of them can also be upgraded to increase their usage time limit, but will need coins.
The four main power-ups (Coin Magnet, Jetpack, Super Sneaker and 2X Multiplier) can be upgraded on a scale of 6. Each upgrade increases their duration on the game by 5 seconds. The maximum duration of a power-up in the game is 30 seconds. The power jumper counts towards a fifth power up in missions.
As the game progresses, more and more power-ups are added into the game. The following list lists out the power-ups currently available and the ones already removed from the game.
Currently Available Power-Ups
| Available Power-Up(s) | Name | Ability | Activating | Purchasable (Yes/No) | Upgradable (Yes/No) |
| --- | --- | --- | --- | --- | --- |
| | Coin Magnet | Attract nearby coins from all lanes for a limited time | Collecting it while running | No | Yes |
| | 2X Multiplier | Doubles the multiplier when running for a limited time | Collecting it while running | No | Yes |
| | Jetpack | Lets the character zoom into the sky | Collecting it while running | No | Yes |
| | Super Sneakers | Lets the character jump higher than usual | Collecting it while running | No | Yes |
| | Score Booster | Increases the multiplier by 5 | Tapping its icon on screen during the start of the game | Yes, for 3,000 | No |
| | Mega Headstart | Lets the character zoom into the sky for a limited time | Tapping its icon on screen during the start of the game | Yes, for 2,000 | No |
| | Power Jumper | Lets the character jump high into the sky | Collecting it while running | No | No |
| | Super Mysterizer | Transforms into a random item | Collecting it while running during a Mystery Monday event | No | No |
Removed/Unused Power-Up
| Removed/Unused Power-Up | Name | Ability | Activating | Purchasable (Yes/No) | Upgradable (Yes/No) |
| --- | --- | --- | --- | --- | --- |
| | Headstart | Lets the character zoom into the sky for a limited time | Tapping its icon on screen during the start of the game | Yes, for 400 | No |