Home
Talk

0
155pages on
this wiki
Welcome on the Subway Surfers Wiki!
Subway Surfers Wiki, a collaborative encyclopedia for everything and anything related to Subway Surfers. There are 155 articles. Have fun editing and do not hesitate to ask an administrator for help!
Subway Surfers Wiki is a non-profit, informational site that is not affiliated with Kiloo or any associated companies.
Community
Please do not post fan-fiction of any sort. Fan-fiction includes:
Inserting false information
Making up games/Characters/Hoverboards/etc.
Posting possible future games, Characters, Hoverboards, etc. without any resources
It will result in a warning, and, if done multiple times, a block will result for a certain period of time. For help:
If there is a vandal, contact this admin, this admin, this admin or this admin to report it. If you would like to request administrators to perform a specific action you cannot do for whatever reason, contact any admins by messaging them on their message wall.
19,594 contributions have been made.
News
Subway Surfers News
Wiki News
Administrators
You can ask any administrators here if you have any questions!
Featured Article
Subway Surfers World Tour: Paris 2014
Subway Surfers World Tour: Paris 2014 is the twenty-first installment of the Subway Surfers World Tour series. This edition has re-released the limited character of Paris, Coco, along with her new Art Outfit, which costs

15. This edition has also introduced Teleporter hoverboard and a new award, the "I Got The Power" Award. It has also introduced a new outfit, the Shine Outfit, which costs

280, for Prince K and a limited hoverboard, the Rose. The Weekly Hunt tokens are the Tiny Eiffel Tower Statues. It was released on July 10, 2014.
Coco is a French mime that appeared as an exclusive and limited edition character to Subway Surfers World Tour: Paris. She is also the ninth limited character in Subway Surfers, and seventh limited character in the World Tour series. She can be purchased with

95,000.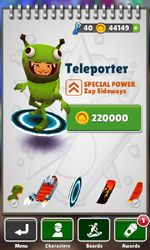 Teleporter is a hoverboard which is introduced in Paris 2014 edition. Its special ability is zapping sideways; that is, transporting from one lane to another instantaneously.
Featured User of the Month
The Featured User for this month is...
Congratulations, ----! Do you want to be the next Featured User? Then click here!