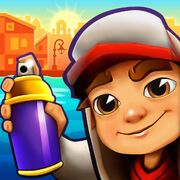 Subway Surfers World Tour: Buenos Aires is the eighty-first installment in the Subway Surfers World Tour series. This edition introduced a new character, Sofia, along with her Gaucho Outfit. It also introduced a new hoverboard, Splash. Weekly hunt tokens are horseshoes. It was released on April 12th, 2018.
This is the second new edition in 2018, after three re-releases. (Paris, Tokyo, and Iceland)
It has undergone a major change in the HUD.
Sofia is the first new girl of 2018.
This is the sixth edition to have a remixed background music added to the game, the first Hawaii, the second Miami, the third Mexico, the fourth being Saint Petersburg and the fifth being Paris.