This article features content related to an already expired object.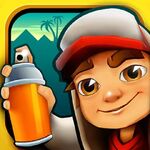 Subway Surfers World Tour: Cairo is the twenty-fourth installment in the Subway Surfers World Tour series and the twenty-ninth update of the game. This edition introduced one outfit, for the new limited character Jasmine, the Safari Outfit, which costs 15

. It also introduced a new board, the Croc. This edition also introduced two more Board Upgrades, for the Great White and the second upgrade for the Superhero. The Weekly Hunt tokens for this edition are scarabs. A new Spraycan Award was also introduced. In this edition the appearance of the Mega Headstart changed. It was released on 18th September 2014.
Re-releases
Edit