This article features content related to an already expired object.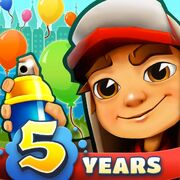 Subway Surfers World Tour: Copenhagen is the sixty-sixth edition in the World Tour series and the seventy-first edition in Subway Surfers. This edition celebrates the 5 year anniversary of Subway Surfers. A brand new character named Freya (costing

95,000) is added to the crew with a new outfit called the Viking Outfit (costing

15). Plus, a brand new board called the Hammer(costing

50,000) is added as well. During the release of the edition lots of characters from previous edition make a return. A brand new special board called the Birthday is added as a free gift. Weekly hunt tokens are Birthday Cakes. It was released on May 11, 2017.
Teaser images for this edition were leaked on SYBO's Snapchat profile.