This article features content related to an already expired object.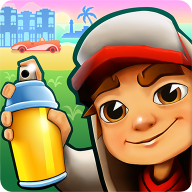 Subway Surfers World Tour: Havana is the fifty-sixth edition in the World Tour series and the sixty-first version in Subway Surfers. This edition brings in a new character named Ramona (costing

95,000) with the new Piña Outfit (costing

15) and a new board called the Chrome (costing

50,000). Weekly hunt tokens are Maracas. It was released on September 22, 2016.
This is the first World Tour to take place in the Caribbean.