This article features content related to an already expired object.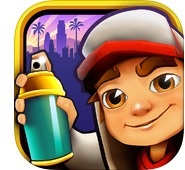 Subway Surfers World Tour: Los Angeles 2015 is the thirty-fourth installment in the Subway Surfers World Tour series and the thirty-ninth update of the game. This edition re-released Wayne, an actor into the game along with his Chief Outfit, which costs 15

and also brought the new Knight Outfit, which costs 30

and a new award was released: the No Acrobatics Award. The Cruiser board was also re-released into the game. It was released on 5/14/15.