This article features content related to an already expired object.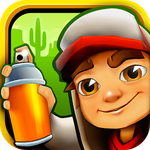 Subway Surfers World Tour: Mexico City is the sixteenth installment of the Subway Surfers World Tour Series, and chronologically, the fourteenth city featured. This edition introduced a new limited character, Rosa, and her Fox Outfit, cost 15 keys 🔑and a Hoverboard, Prickly. The Weekly Hunt for this edition requires the player to collect Red Hot Chili Peppers. It was released in March 27, 2014.
Ad blocker interference detected!
Wikia is a free-to-use site that makes money from advertising. We have a modified experience for viewers using ad blockers

Wikia is not accessible if you've made further modifications. Remove the custom ad blocker rule(s) and the page will load as expected.