This article features content related to an already expired object.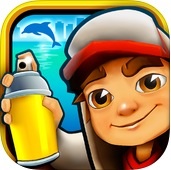 Subway Surfers World Tour: Miami is the sixth installment to the Subway Surfers World Tour series, succeeding Subway Surfers World Tour: Tokyo, and the eleventh update of the game
It was available for free, for a limited time. It includes a new character, Nick, and a hoverboard, Flamingo. It also includes the newest power-up board, Hot Rod available for 280,000

.
It was released on May 30, 2013, for the second time on January 23, 2014 and for the third time on August 10, 2017. This version also introduces new outfits for certain characters. A free outfit was given to Jake, which is the Dark Outfit and another outfit that costs 30

, which is a Star Outfit. The players do not have a free outfit for Tricky, sadly, which means they have to spend keys for her outfits; one of her cost 25 

and the other costs 40

. The first outfit is the Camo Outfit, and the second is the Heart Outfit.
Re-releases
Gallery