This article features content related to an already expired object.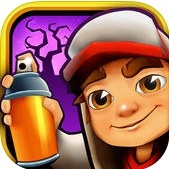 Subway Surfers World Tour: New Orleans 2014 is the twenty-fifth installment of the Subway Surfers World Tour series. This edition saw the re-release of the character, Eddy and the hoverboard, Pumpkin. It also gave an outfit to Eddy, the Trick Outfit. This edition has also introduced two more board upgrades, for the Big Kahuna and the second upgrade for the Starboard. The gameplay has a Halloween theme, with the inspector dressed up as the iconic Frankenstein's monster and the dog as a skeleton. Like the previous New Orleans edition, you need to collect Pumpkins in the Weekly Hunt. It was released on October 9, 2014 for Android users and October 15, 2014 for iOS users.
Ad blocker interference detected!
Wikia is a free-to-use site that makes money from advertising. We have a modified experience for viewers using ad blockers

Wikia is not accessible if you've made further modifications. Remove the custom ad blocker rule(s) and the page will load as expected.