This article features content related to an already expired object.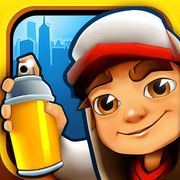 Subway Surfers World Tour: New York is the first installment to the Subway Surfers World Tour series, and also the sixth edition for the Subway Surfers edition. It was a free update for the Subway Surfers game. It was only available for a limited time. It introduced the new character, Tony, who was also only available in this edition, and was worth 95,000

. It also included the Liberty Board as a Limited Edition purchase of 50,000

and 3 other new boards: Miami (later renamed Sunset), Monster and Skull Fire.
It was released on January 3rd, 2013, and appeared again on March 6th, 2014 and re-released on September 3rd, 2015 and returned on August 9th, 2018.
Re-releases
Trivia
Gallery