This article features content related to an already expired object.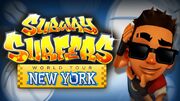 Subway Surfers World Tour: New York 2015 is the thirty-ninth installment in the Subway Surfers World Tour series and the forty-fourth update of the game. It is the third time New York appeared in the series. Also for the third time, Tony is introduced as a limited character, costing 95,000

, with the Folk Outfit from its 2014 counterpart for 15

and a new Game Outfit for 30

, and Liberty as a special board with the price of 50,000

. Weekly Hunt tokens in this version are basketballs, different from the tiny liberty statues. It was released on 9/3/15.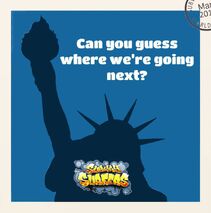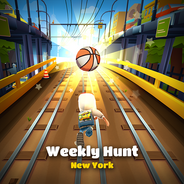 This is the second edition that has been re-released twice. The first being Paris 2015.