This article features content related to an already expired object.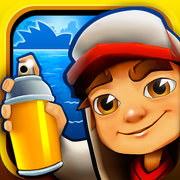 Subway Surfers World Tour: Sydney is the fourth installment in the Subway Surfers World Tour Series.
Sydney came out with a new character, Kim 95 000

, and a new hoverboard, Outback 50 000

 and the update had a new feature, Keys! Keys are used to revive the character, continuing the game, and also to buy different outfits for certain characters. But as usual, Keys are rare, and can be picked up while running or obtained by the Mystery Box. This edition also introduces the new Weekly Hunt which allows the player to collect a certain amount of tokens each week to receive great rewards. Weekly Hunt tokens are boomerangs.
It was released on April 4, 2013.
Trivia
This is the first (and currently only) edition to be placed in Australia.
On the loading screen, the left of the tracks is a vast desert while the right is the famous Sydney Opera House; which are one of the many famous landmarks of Australia.
Is the second World Tour that re-released remake both the character: Kim's remake for the board Outback for Wave Rider. The first World Tour was Subway Surfers World Tour: Rio 2015
Gallery
Ad blocker interference detected!
Wikia is a free-to-use site that makes money from advertising. We have a modified experience for viewers using ad blockers

Wikia is not accessible if you've made further modifications. Remove the custom ad blocker rule(s) and the page will load as expected.