This article features content related to an already expired object.
Subway Surfers World Tour: Venice
is the thirty-fifth installment of the
Subway Surfers
World Tour series. This edition released
Marco
, a gondolier boy along with his Mask
Outfit
, which costs 15

and a new award was released: the Weekend Fun Award. The
Gondola
hoverboard
was also released into the game. It was released on 4th June 2015.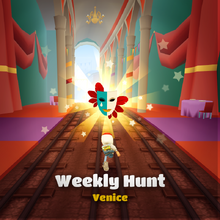 Ad blocker interference detected!
Wikia is a free-to-use site that makes money from advertising. We have a modified experience for viewers using ad blockers

Wikia is not accessible if you've made further modifications. Remove the custom ad blocker rule(s) and the page will load as expected.