This article features content related to an already expired object.
Sun




Characteristics
Title
Sun
Cost
95,000
Tokens
None
Outfits
Outfit 1
Spot Outfit
Cost
15
Outfit 2
None
Cost
None
Release Date
1 August 2013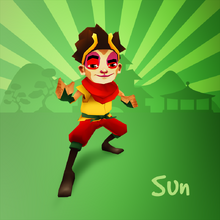 Sun is a Chinese acrobat that appears as an exclusive and limited edition character in Subway Surfers World Tour: Beijing. He is also the tenth limited character in Subway Surfers, and the eighth limited character in the World Tour series. He can be purchased with

95,000.
Appearance
He has his brown hair styled in an unusual way. He wears light white makeup on his face and magenta circles around his eyes. He wears a red, yellow and black outfit completed with dark black boots and a green belt.
When Beijing was re-released, he received the Spot Outfit, which costs 15

. There, he looks like a monk, where he shaved his head, with two lighter spots on it, his shirt changes into a red monk outfit, his boots are switched with stockings and sandals, and his scarf is changed into a necklace. Also, instead of a green sash he now wears a black belt.
Personality
Coming soon...
History
Coming soon...
Trivia
Sun is a direct reference to Sun Wokong, the Monkey King.
He and Noon are the only limited martial artists in the game.
His Spot Outfit has a close resemblance with Aang from the Avatar: The Last Airbender series.
Gallery