This article features content related to an already expired object.
Teddy


Alex surfing on the Teddy hoverboard

Characteristics
Title
Teddy
Cost
50,000
Special Ability
No
Board Upgrades
Upgrade 1
None
Cost
None
Upgrade 2
None
Cost
None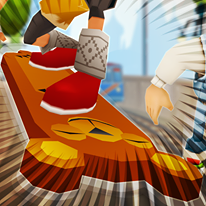 Teddy was the eleventh limited hoverboard in Subway Surfers. Like any other hoverboard, it protects you from crashing for 30 seconds. When crashed, the board will explode and recharge for a few seconds before it can be used again. It has no special ability. It's only appearance was in Subway Surfers World Tour: Moscow. The hoverboard has the appearance of a teddy bear whose eyes seems to be closed.
Ad blocker interference detected!
Wikia is a free-to-use site that makes money from advertising. We have a modified experience for viewers using ad blockers

Wikia is not accessible if you've made further modifications. Remove the custom ad blocker rule(s) and the page will load as expected.